– Event ideal for beginners or Provincial title contenders –
February 27, 2017 – Triathlon Ontario, the recognized Provincial governing body of Multisport in Ontario, announced registration for the third and final stop on the Provincial Indoor Series is now open. The Series finale will take place on April 22nd, between 1-4 pm at the world class Toronto Pan Am Sports Centre.
The format is simple, swim as many laps as possible in 15 minutes, ride as many kilometres as possible in 15 minutes and run as many laps around the track as possible in 15 minutes. The further you go, the more points you will score.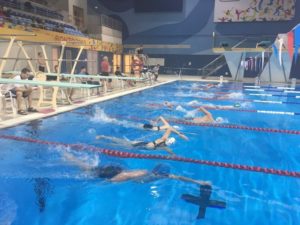 All you need is a swim suit, goggles, shoes and a big smile. Relays are available for 2 or 3 people per team.  The event is open to athletes aged 10 years and older.
Participants get to choose their own start time, subject to availability, and each registrant receives a complimentary water bottle and swim cap in their registration package. Prizes are available for each age division winner.
The Provincial Champion will be decided by accumulating the most points in a best two-of-three events.  Current standings are updated and are posted on the event website.  The event is open to members or non-members but only 2018 Triathlon Ontario members are eligible for the Series title and standings.

Volunteers Welcome
Interested in volunteering while your friend or loved one is competing? There's always need a few extra lap counters and cheering support crew and the support would be much appreciated. Volunteers can register and pick their desired slot by going through the "Register Here" button above and follow the process.
About GOTRI.ca
GOTRI.ca is a resource website created by Triathlon Ontario specifically for beginners and new entrants in the sport of triathlon, duathlon and other multisport events.  The website is an easy-to-use resource tool to find sanctioned Ontario clubs, events, coaches or general information about the sport. For more information please visit gotri.ca.
Follow us on Twitter: @GOTRIOntario
About Triathlon Ontario
Triathlon Ontario is a non-profit organization that is the recognized Provincial governing body for Multisport in the province of Ontario. Our mission is to provide leadership and governance for the development of a safe and fair environment for Multisport in Ontario. Triathlon Ontario oversees the sanctioning of races and clubs and undertakes a number of duties and responsibilities on behalf of athletes at every level, coaches, clubs, officials and race directors to ensure the growth and development of the sport in a fun and safe way. For more information please visit triathlonontario.com.
Follow us on Twitter: @TriOntario
Like us on Facebook: facebook.com/TriathlonOntario